Baby Bottle Drive
Please click here to see our current Change For Life Baby Bottle Drive Fundraiser: 2020 Baby Bottle Campaign Flyer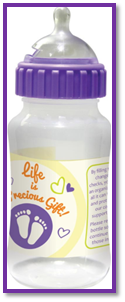 Every year, the Free Women's Center hosts baby bottle drives in area churches.  We deliver the baby bottles the week before the drive, and then pick them up following.
Baby Bottle Drives are held from Pro Life Sunday (Sunday preceding 22 January) through Valentine's Day, Mothers' Day through Fathers' Day, or anytime your Church wishes.
Steps:
Free Women's Center delivers the bottles;
Church distributes them to members of their congregation;
Church members fill with donations (coins, cash, checks);
Church members return them to their Church;
Free Women's Center picks up the bottles, counts the proceeds, and then provides a report to the Church.
If you want to host a baby bottle drive in your Church,
Call (573) 774-4992 or email info@freewomenscenter.com.